Płyn do odkamieniania 250 ml
Opis:
Płyn do odkamieniania
opakowanie:
250 ml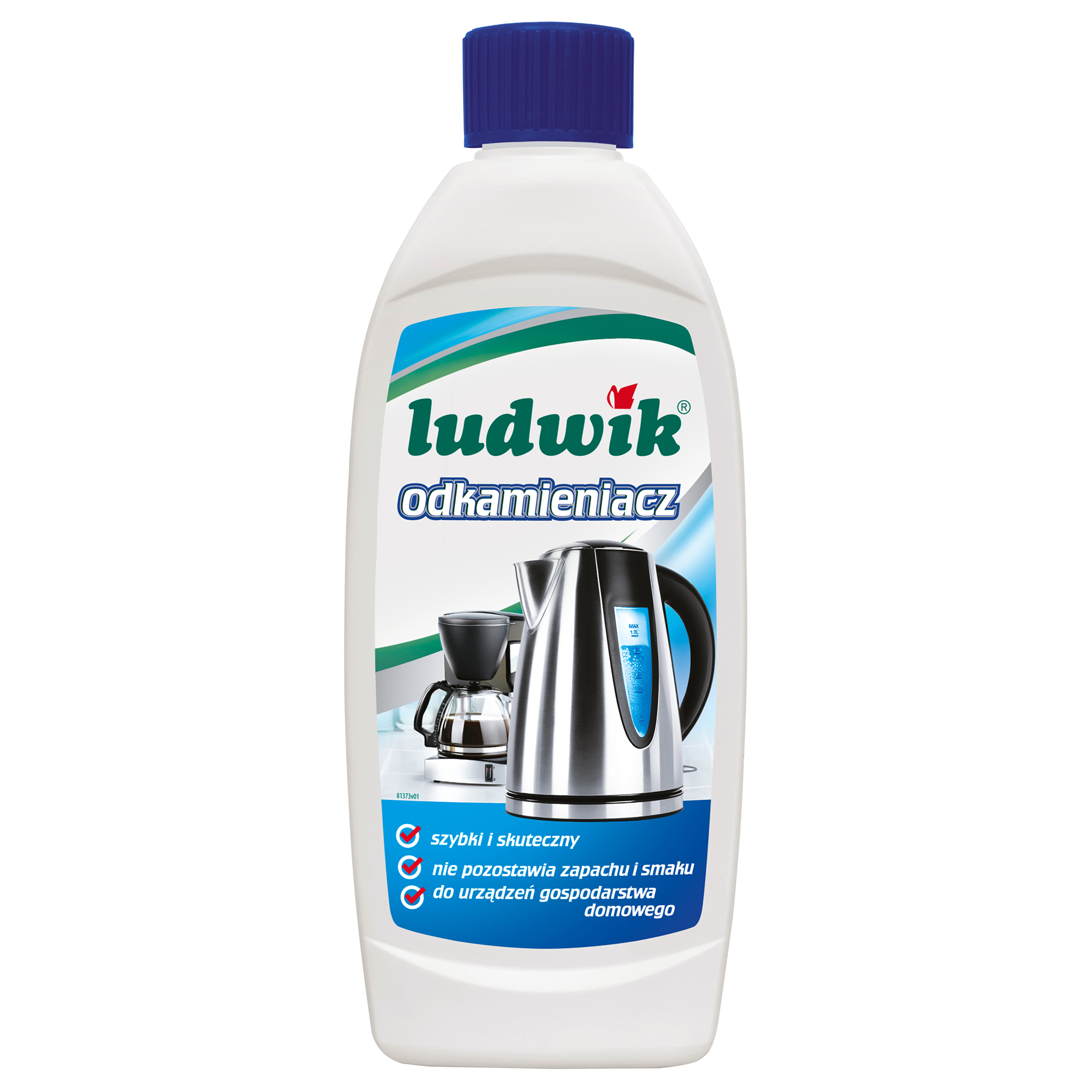 skutecznie usuwa kamień, osad wapienny
przeznaczony do czyszczenia czajników, grzałek, ekspresów, żelazek
niezwykle szybki w działaniu
pozwala oszczędzać energię
nie posiada zapachu i smaku
Płyn do odkamieniania Ludwik
Opracowaliśmy wyjątkowy płyn do odkamieniania, który pozwoli Ci na bezproblemowe, błyskawiczne usuwanie kamienia z domowych urządzeń takich, jak wspomniane czajniki, czy żelazka. Produkt ten skutecznie usuwa wszelkie ślady kamienia oraz osadu wapiennego. Jego skład opracowany został w taki sposób, abyś po użyciu nie odczuł żadnych negatywnych różnic w smaku, czy zapachu, np. po odkamienianiu czajnika. Warta podkreślenia jest też szybkość działania płynu.
Dlaczego warto wybrać odkamieniacz w płynie Ludwik?
Usuwanie kamienia przy pomocy produktów Ludwik przełoży się nie tylko na poprawę walorów smakowych wody i gorących napojów przygotowywanych w czajniku. Wpłynie to bezpośrednio na poprawę działania Twoich urządzeń i oszczędność energii wykorzystywanej do ich działania. Regularnie odkamieniając czajnik, czy żelazko, realnie przedłużasz też żywotność tych sprzętów i zmniejszasz ryzyko potencjalnych awarii.
Podmiot odpowiedzialny:
Producent:
GRUPA INCO S.A. ul. Wspólna 25 00-519 Warszawa
Kraj pochodzenia - Polska
The photo is for information purposes only. The actual look of the product may differ from the one presented in the photo. We do not take responsibility for any changes in the appearance of the product made by the manufacturer. ATTENTION! Due to the continuous improvement of products, the recipes of the preparations may differ from the actual state. The given composition is up-to-date when the product is introduced to the store's offer and updated when we notice such a change. We are not able to monitor every INCI value in the store's offer on an ongoing basis, but if it is important to you, please contact us to verify a specific item.